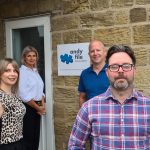 It's an exciting time for Andy File Associates! We're delighted to announce three new starters to help us meet client demands as the business continues to grow.
Despite the repercussions of the pandemic, we've experienced a spike in activity from companies looking to recruit and a vast market of skilled candidates ready for employment in what recent figures released by the Office of National Statics anticipate the start of economic recovery.
The existing team has been joined by one of Andy's existing colleagues from 20 years ago, Tim Garrod who joins the team as Recruitment Partner specialising in technical and engineering employment.
Elizabeth Owen also joins the team as Marketing and Resourcing Executive, along with Natalie Wilkinson as Senior Administrator. Tim isn't the first ex-colleague to join the Andy File Associates family. Tim follows in the footsteps of Rebecca, who also previously worked with Andy, and has been enjoying life at AFA for the past seven years.
The now team of eight will be expanding further with additional staff joining the business next month, so keep a look out for further announcements!
Andy File Managing Director of Andy File Associates, said: "It's an incredibly busy time in the world of recruitment as the economy takes the first steps of recovery and we're delighted at employing three new starters to embark on this journey with us to help meet the ever-increasing demand of candidates and clients.
"Our recent expansion is a reflection of the current employment market as we're busier now in comparison to pre-pandemic. This predicts an extremely positive outlook for the local economy and supports the recent figures released by the Office of National Statistics which revealed an increase rate of employment, a decrease of unemployment and a halt in redundancies.
"I would like to wish our new recruits the very best of luck in their career at Andy File Associates."
Contact us now to see how we can help you find your dream job, or find your business that perfect candidate!