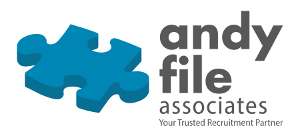 Hi Andy – thought I'd send this to you personally – didn't want to make our Rebecca blush!!!
I have had the pleasure of dealing with Rebecca whilst we worked together on a role for me within an Engineering Company in South Yorkshire on a temporary basis.
I have always found Rebecca to be courteous, supportive and kept me informed all the way along the process.  In a challenging market currently, it was paramount that communication was key and I personally am extremely grateful to Rebecca in particular, but to all at Andy File Associates who are a real credit to their profession.   I will always keep in touch with AFA and Rebecca and consider myself to have developed a friendship with them.