FT Perm
Salary: Up to £30,000 (Dependent on Experience)
Hours: Please see the advert
Andy File Associates Limited are working as a Recruitment Agency on behalf of our client with regards this permanent position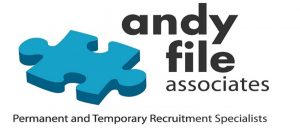 Andy File Associates are proud to be working with In-Tend to help them as their exclusive partner for this recruitment campaign. We look forward to supporting them through their growth in the coming years.
Job Title: Trainer .
Accountabilities:
In-tend Ltd deliver a suite of e-Procurement software and associated services to clients across all marketplaces, both within the UK and Internationally.
The post holder will be required to deliver training to customers both remotely and on site and assist in achieving training budget deliverables in any given financial year.
Job Function:
Travel throughout the UK and Internationally training the In-tend suite of software, as well as remotely deliver training, webinars and demonstrations
Undertake customer set up and portal testing, ahead of training delivery
Attend and contribute to training meetings, as required
Meet defined training objectives as advised to you by the Senior Training Manager
Update the MCP ticketing database with relevant updates; logging time against tickets and projects accordingly.
Monitor and report on customer activities and provide relevant feedback and information, as appropriate
Attend In-tend' s own conferences and exhibitions in relation to your job function, within the UK and overseas in person, or online
Undertake in-house training to colleagues on system functionality and produce training material and publication content as directed, updating regularly
Assist in writing specifications for customer bespoke developments as required, liaising with Sales and Development as appropriate
Assist in system testing as directed
Undertake project/account management as appropriate in relation to new and existing training requirements, liaising with Sales and the Project Management Team as necessary
Any other duties as required
Knowledge, Skills and Experience:
Proven training experience is essential
To act diligently and professionally in a customer facing environment
Knowledge of the In-tend suite of software and a willingness to learn and understand new developments, adding to specifications as required by both staff and customers
Experience of delivering presentations to an audience of senior decision makers
High level of communication skills, both verbal and written
Ability to understand, conceptualise and interpret the requirements of others
Degree of personal initiative and responsibility
Strong organisational skills with the ability to work to tight deadlines
Strong interpersonal skills
Ability to work on own initiative and as part of a team
Proficiency in a wide variety of IT software
Hours of work: 08:30am – 5.00pm Monday to Friday – (1 hour unpaid lunch)
Benefits: Westfield Health*, Death in Service*, Pension**
*after probation
** after 12 weeks within the role but can opt in sooner
All CVs from Third Parties Suppliers will be forwarded to Andy File Associates as we are the exclusive partner of In-Tend for all their recruitment.
Daniel Owen's Job Enquiry Form