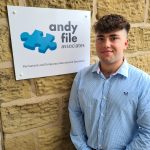 A big welcome to Harry Greaves who joins the Andy File Associate team as Student Consultant during his summer break while studying at University of Manchester.
Harry is the fourth addition to the AFA family in the past month as the business continues to grow in response to the increase in clients and candidates.
Andy File Managing Director said: "We're all thrilled to have Harry on board as extra resource through the summer. Utilising students during the holiday period is a win-win situation for both parties as new staff can be employed quickly and get straight into work- from their perspective it provides them with the experience of working in a professional setting, learning new skills which they can utilise during their studies.
"Young adults account for almost two-thirds of job losses since the pandemic according to Office of National Statistic so availability is there ready to be scooped up.
"We wish Harry the very best of luck in his interim role with us, he is a great asset and we hope to provide him with some life-long new skills ready for his future career."
Get to know the rest of the AFA team! If you would like more information about student availability across the summer holiday, get in contact with us now on 01709 717841, or click here.